3-2-1-Go!! The roar of the racecar engines is incredibly loud. Why did I forget to bring my earplugs? Now I have the choice to either cover my ears or use my hands to shoot video with the iPad. I choose the latter. When else do you have the opportunity to experience a Formula 1 racing start from the front row? And because sharing experiences makes it even more fun for everyone, I decided to record video of some of my impressions for my iPad magic blog.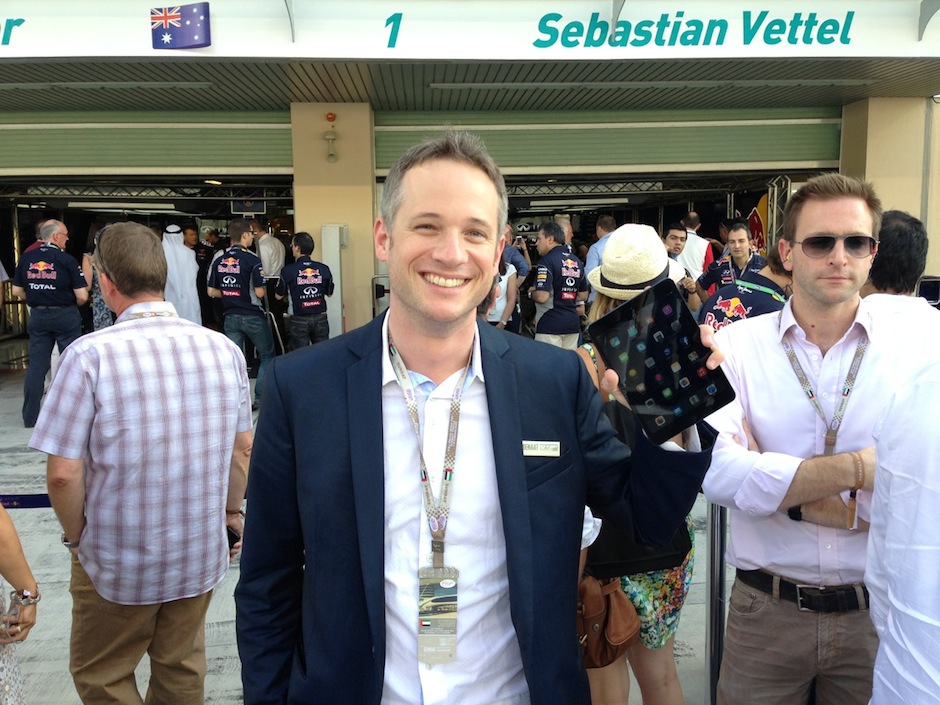 iPad magic in the thrill of speed
The race has started and I walk back again through the glass doors into the VIP Lounge. I was invited to Abu Dhabi, the capital city of the United Arab Emirates (UAE), to entertain guests with my iPad magic. I'm cordially received, as my YouTube videos are well-known in Abu Dhabi as well. TV appearances in Turkey or Facebook videos like "Best iPad Salesman Ever" result in a bit of microfame, and one of the participants immediately recognizes me, greeting me with a warm smile.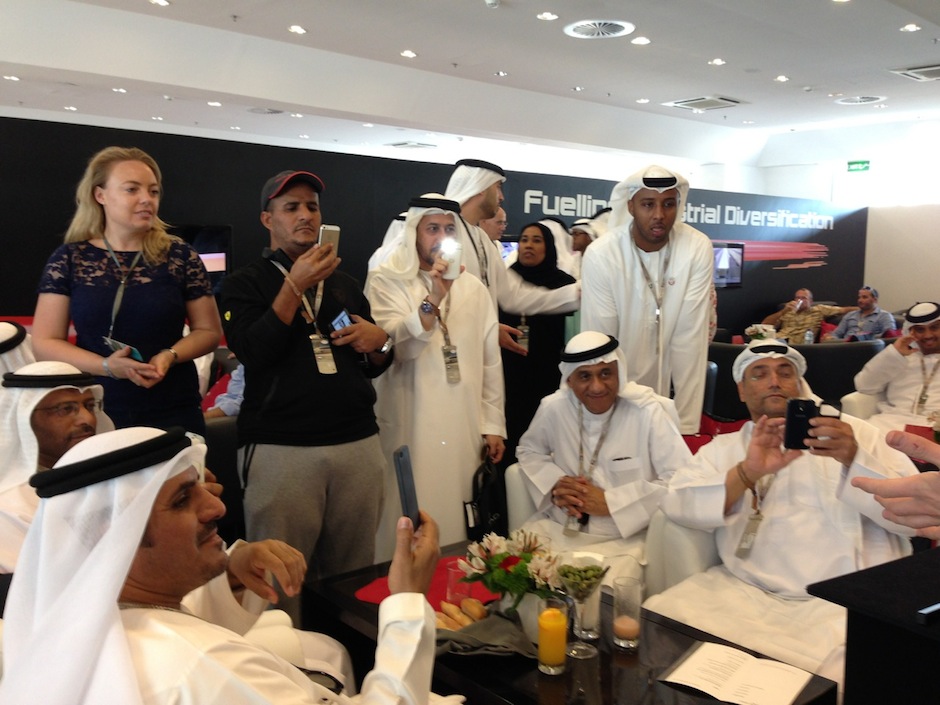 It's good to see that some of my ideas have managed to make their way around the world. However there are some cultural differences. For example, suddenly all the spectators at a table during a performance rise once a new guest arrives — to demonstrate their respect. In addition, if they know each other well enough, they press their noses against each other as a welcoming gesture. Then they turn back to me with full attention. They were so distracted with all that nose-touching, I could have made an elephant appear out of thin air.
I was invited to Abu Dhabi by two separate clients. The first event took place on an island, 40 minutes off the coast of Abu Dhabi. Together with a group of other artists, a speedboat rushed us to the location. There I am, in the middle of the Dubai Drummers and a group of dancers, my arms tightly clutching my suitcase so that it won't go overboard. We reach the wonderful open-air location at the beach, safe and sound. The event starts with a fireworks display for the 150 spectators. It's hot, but I'm relieved when it gets cooler by the time my performance starts — otherwise my suit would have made the sweltering heat hard to take.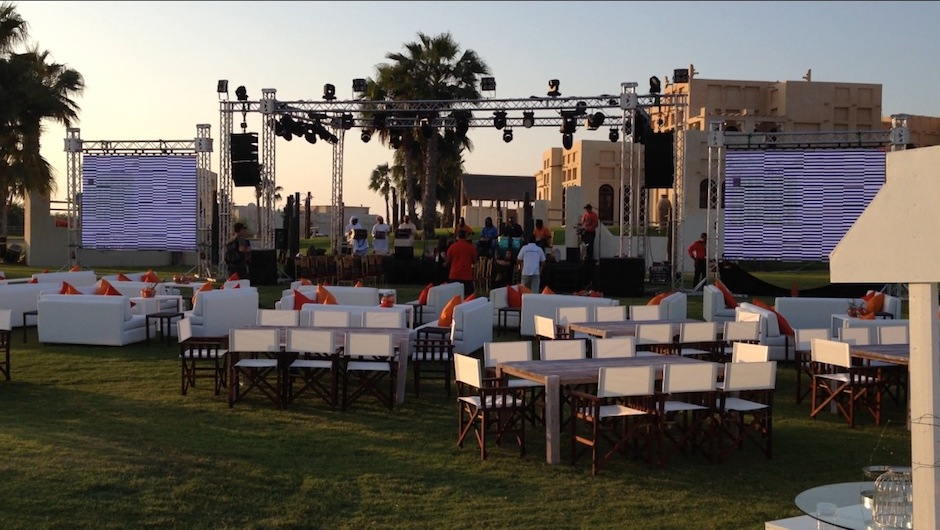 Abu Dhabi is quite familiar with the concept of speed, especially when it comes to the city's growth. In addition to the many prestigious projects already built, the city has set ambitious targets for even more growth between now and 2030. Best of all, Abu Dhabi is one of the most secure travel destinations worldwide — no need for me to worry about my iPad getting stolen there!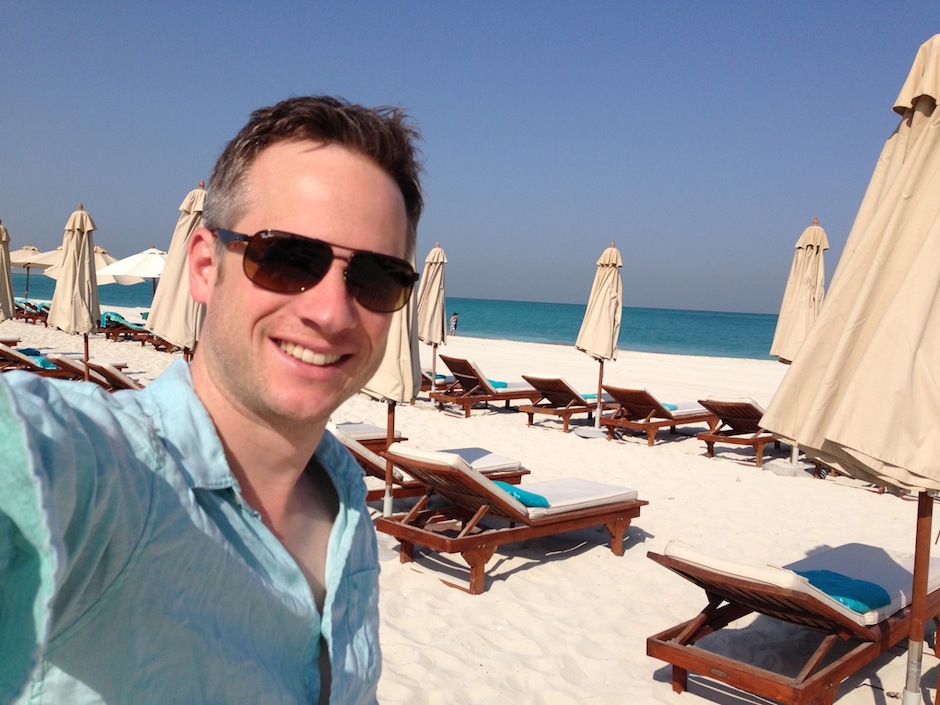 Therefore this whole trip feels more like a weekend break than work. The 5-star St. Regis Abu Dhabi hotel offers a beautiful beach, and there's even time for sightseeing. In the gigantic Grand Mosque I am suddenly face-to-face with former Argentinian soccer star known as "the hand of god": Diego Maradona. I would have been more than happy to make a soccer ball appear out of the iPad for him, but he is surrounded by local business partners who explain the sights.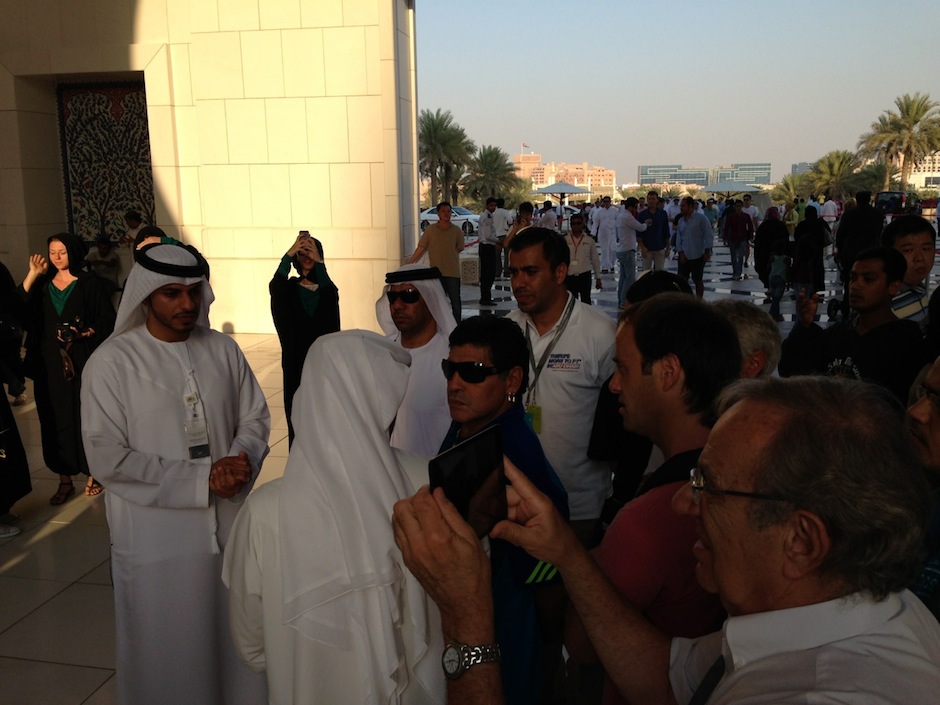 To complete my trip I wen to a Depeche Mode concert that is part of the Formula 1 event. I'm shooting video of parts of the concert with my iPad, and this time, I voluntarily refrain from using my ear plugs.